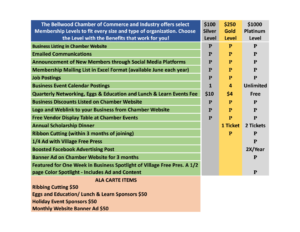 We are excited that you are interested in joining our Chamber!
*New* Membership Benefits. Click to download the Membership Benefits Chart
To apply for membership:
1. Fill out our Online Membership Application.
2. New and existing members may pay online with the Buy Now options in the section below. Membership dues are annual.
Pay online with the Buy Now button options below.
2022-2023 Membership Rate

*Annual membership expires February 26, 2023.

Membership Rates: Silver, Gold, or Platinum

Silver – $100

Gold – $250

Platinum – $1000

Other – $50.00 – $25.00